Who doesn't love Fixer Upper on HGTV?
I love Chip and Joanna and secretly covet their profession, but I love, love, love her style. I've always been drawn to that crazy mix of furniture and accents, "whatever you love, you use" type of decor. Now, it's an acceptable style, proving to the spouse that I'm not crazy!
magnoliahomes.net
I get that for some
strange
people, they don't even
like
her style, but I can't get enough. Then reality sets in and I realize that I don't live in a renovated farmhouse in Texas, but a suburban cookie-cutter in Jersey. (It's okay, I've been there and it's hot, like super hot, in August).
I did decide, however, to add a touch of this Industrial Farmhouse Decor to my house.
I'm calling it Farmindustriaburb-house.
(Whatever, my kids liked it).
The first order of business was to get rid of the ginormous pub table that ate up half of my kitchen and all of the view of what little bit of a yard we actually do have to see.
So I busted out the farmhouse table we had in the playroom that was collecting crap, and decided to paint it and distress it. This table actually has sentimental value, to me anyway-it was our first-ever table that we bought when we got married! Cute right?
Next, I had to get my hands on some of those metal chairs. Now I like them enough, but not enough to spend $300 on each chair. I found a perfectly priced set at Overstock.com and lucky for me they came in a four pack.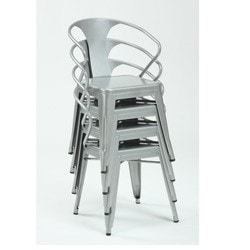 overstock.com
Last up, I opted for a bench that can seat 3 small butts and be pushed completely under the table to create more space. I found a frugal but nice bench online.
I painted the legs of the table black because it goes with what we already have in the kitchen, and then I distressed it with sandpaper on random edges. (let's face it, with five kids it will be distressed on it's own).